New Pew Research Center analysis revealed that Black people are almost two times more likely than any other racial or ethnic group in America to talk about race frequently.
The survey analysis released Tuesday is based on an online poll that asked 6,637 people if they talk about race in conversations with family and friends often, sometimes, rarely or never.
Of the about 2,997 Black people who responded, 27 percent of them said they talk about race often.
That's compared to 15 percent of Hispanic people surveyed, 13 percent of Asian people and 11 percent of white people.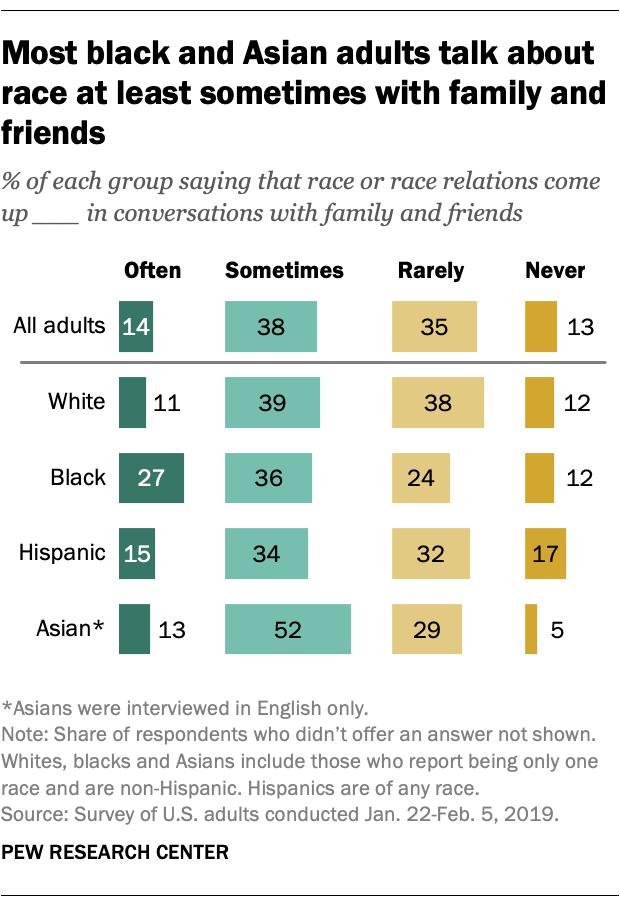 Atlanta NAACP President Richard Rose told Atlanta Black Star he thinks Black people are talking about race more frequently because they are often victims of racism.
"It's a problem in our lives, so of course we're going to talk about it," he said.
He added, most people are going to talk about the rain if it's pouring down outside.
"It rains every day on Black America," he said.
One example of systematic racism the local leader gave is the number of Confederate monuments and symbols still standing on public lands today.
There are 1,747 such symbols honoring Confederate leaders, soldiers or the Confederate states in general, according to a report the Southern Poverty Law Center released Feb. 1.
These include monuments, statues, flags and holidays, as well as public schools, bridges, military bases and roads named in honor of the Confederacy.
Rose said he takes that to mean the majority of Americans have bought into this idea that a failed insurgence against America is something worth remembering.
Rose said, they're holding on to the concept of white supremacy, which was a grounding principle of the Confederate movement.
"And so yeah, black folks talk about it," he said.
He added that he would like to see white people acknowledging the systematic decimation of Black, Native American and Hispanic people and the resulting generational poverty more frequently.
Rose said some people see success stories and think that means Black people no longer feel the affects of slavery.
"They don't understand how it has affected us generationally," Rose said.